The goal: one online environment
A better structure within an inspiring, dynamic environment, equipped with an integrated newsfeed that guides multinationals through the rough waters of the current financial climate. All products and local websites needed to be integrated in one single environment – resulting in more frequent visits.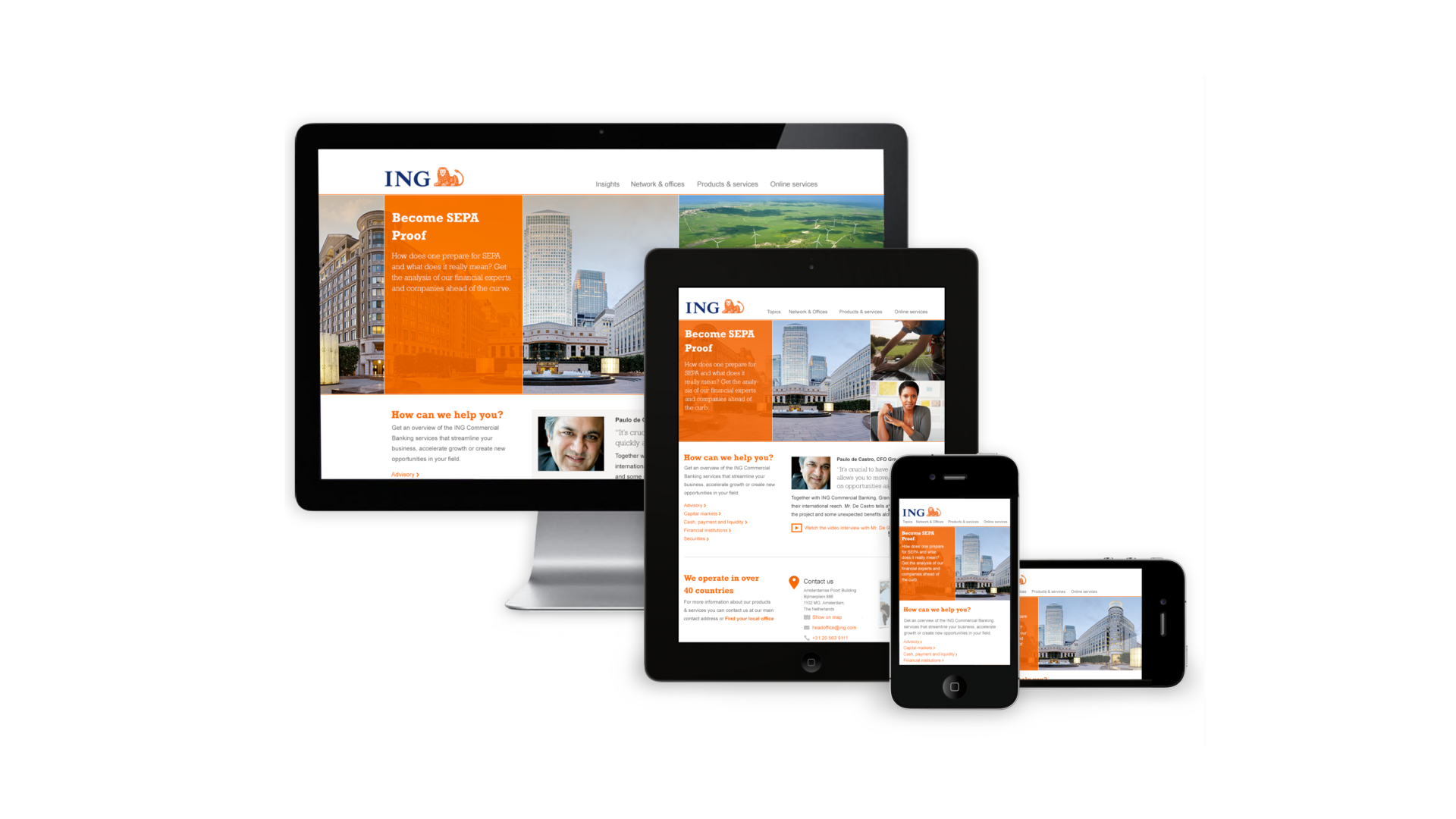 The challenge: guiding website visitors
ING WB website visitors look for a clear overview of available services as well as ING WB's possible experience on, or solution to a specific issue. The online environment however, consisted of separated 'islands' which meant users lost track quickly.
Our approach: content-first
Our process is based on a 'content first' approach. Before embarking on the design process, we first defined which content is offered to what target audience and to what end. Doing this by conducting various interviews to make a roadmap of sorts, turned out to be a good start.By working content-first, we can offer the right information at the right timeING Wholesale Banking
The result: a web platform designed to last
The new responsive web platform has been designed to last, and therefore focuses on content. From the navigation menu, there is a quick link to news, products and countries where ING WB is available. When highlighting a certain country, a visitor will be shown related products and articles. As for news, divided in themed sections: it's been given a prominent location as the website should serve to inspire visitors.
The details: Umbraco CMS
We selected Umbraco as our ING WB's CMS solution for its multilingual abilities, speed and content tagging options. This means the organization can choose which information is relevant to certain countries or products by simply tagging it. For each device, we reconsidered the content. As for example CFO's travel a lot and will prefer using tablets over notebooks, we positioned certain information more prominently on a tablet.