We believe that presenting yourself on events can be more fun, thought provoking and interactive with the help of conversational interfaces. That's why we build a voice driven survey that engages and guides your booth or event guests through interesting and always relevant topics.
We find ourselves quite often on events organized by our clients, public events like Emerce and events we founded ourselves like Open Voice. We often have our face recognition installation installed as eye catcher and conversation starter. Those moments are perfect to connect with people, inspire them, ask them about the event, relevant topics and finally seduce them to subscribe to our personalized newsletters.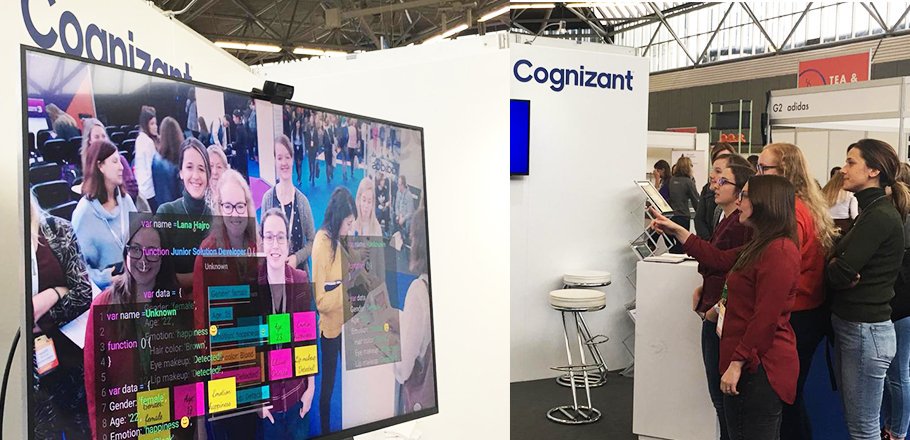 There are however some handicaps to common booth setups. We preferably want to talk to everybody, inspire them and note their information so we can do a follow up. Because of capacity of our booth staff and the nature of event visitors we can't serve everybody. We do want to welcome everybody personally, but also want people to find their own way through our information.
So, we build an interesting, scalable and yet personal way to inspire people. We wanted to make it so, that even if guests don't have much time, don't want to interact, or our booth staff is occupied, they still are served and can do a follow up in their own time.
Conversational interfaces for personal, yet scalable interaction
Together with one of our clients we started to design and build a quick survey based on Googles Dialogflow and Google Assistant. In this setup we can build an interactive 'chat' with our booth guests by offering them a drink, a tablet and a headphone, so they can sit down and experience our content in an interactive, inspiring and easy going way.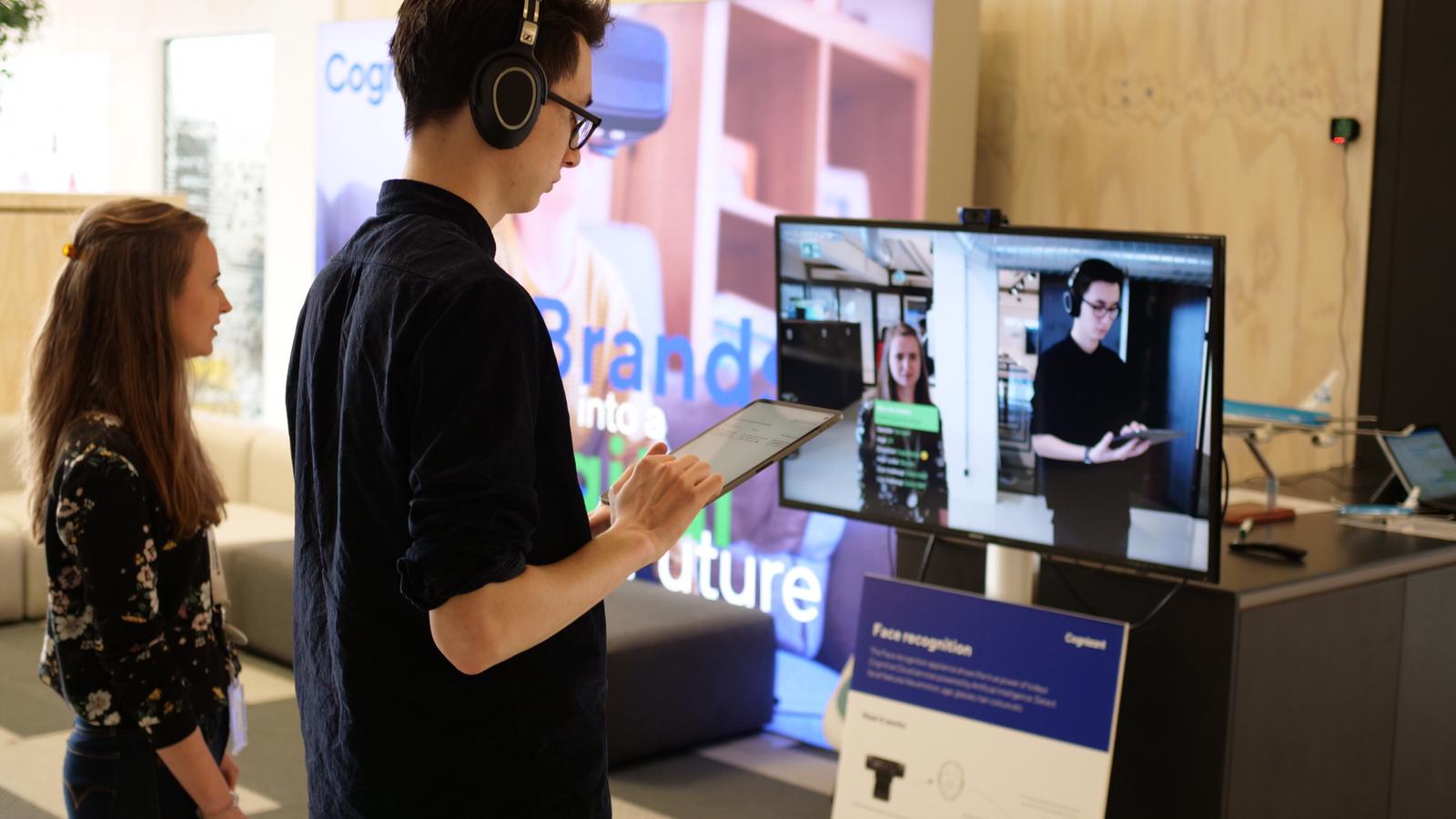 Our goal for the conversation for this event: make our clients and partners think differently about the application of technology, design and research. To make that thought stick we offer a follow up subscription to a personal newsletter fit to their input, preference and their role. Because our first goal is attention, we can also respect their privacy, fully comply with GDPR regulation and of course their time in the booth.
Talk to everyone, more personally
Anybody that has walked an event lately knows sometimes things can be hectic and feel like a factory of attention. Who should you focus on, which booth will provide the best value, connections and perhaps an interesting future?
Because we know booth attendants can't talk to everyone at the same time and you as a booth guest can't wait, we decided to make it a bit more personal by providing people with a tablet, a headphone and a personal assistant that both presents and talks you through themes that are relevant for the event and the you.
In our case below we present topics related to A.I., privacy and human resourcing themes like improving your work environment, career planning and requirements for optimal collaboration between colleagues.
https://www.youtube-nocookie.com/embed/Kv3Gh5isOIU
In our interactive survey we try to inspire people to think about how new interfaces, artificial intelligence (A.I.) and personal data might have a positive impact on their collaborations at work, their life/ work balance and their general energy throughout the day.
A different survey experience with privacy in mind
Through this medium we can guide people through thought-provoking statements and ask them what they think might be interesting. We want people to start thinking about the future and how it might help them to become a better balanced person, employer, partner and even family member.
After the event the common trends can be fed back to them, through a follow-up message. Think of an analysis of the answers we collected. To give the data back to the guests we offer them to subscribe to a custom-made newsletter based on their preferences.
Our approach to subscribe is different than other booths do. Rather than asking people to leave their personal data in the tablet we offer, we offer a personal QR code, or an easy to remember internet address to subscribe to said newsletter.
We use this method so people can take the newsletter with them on their own smart phone and so they can finish subscribing in their own time. This way people won't feel like we put them on the spot, sharing information, but also the survey application is fully GDPR compliant.
This survey might be just for you
Are you presenting your company or yourself on a public forum like an event, launch party soon? Do you want to get insights from your guests and provide valuable content about your industry, products and your business? You need to talk to our Conversational team!
Our Conversational team is our expert group that have created conversational interfaces like chat services, voice assistants and other dialogue driven services for many of our clients. They can help you transform your event presence into a great start of a valuable relationship through an interactive dialogue driven survey.