Energy, optimism and a lot of unexpected insights, that sums up our two-day Human Centered Design boot camp. This time we created a pop-up Human Centred Design center in the heart of Amsterdam teaching 25 of our Young Graduates what Human Centred Design actually means. In this article we share our experiences and learnings.
What is Human Centered Design?
Human Centered Design (HCD) is a process and mindset crucial to create the best match between people and your business. When we say 'best' we mean: an equal exchange of value between two parties, where value might be: products, services, access, entertainment, attention and the like.

The method of HCD is quite recognizable: understand, empathize, create inspiration, make sense of the situation, ideate, prototype and get feedback. The mindset of HCD however is a quite unique combination of empathy, 'thinking with your hands', optimism, learning and the relentless believe that everybody is creative. This is the mindset we like to instill into our colleagues and clients.
Finding value with real people
Mirabeau creates digital services that shape the way companies do business and touch the product or service itself. As a digital agency we focus on building valuable relationships between companies and people. We create value by putting people at the center of our quest to help our clients.
Putting people at the core of your design has been a platitude used by many companies. Human Centered Design however uses the relationship with actual individuals 'out there' as a tool to not only shape the way you do business, but also to define the business.
Before we continue, we'd like to give props to IDEO.org for their wonderful work in making Human Centered Design accessible and tangible. Check out their website for more inspiring work and guiding articles.
Learning vs experiencing Human Centered Design
Explaining what Human Centered Design means, isn't enough to really grasp the concept of it. As we like to say with everything we do: to do is to understand.
And to experience means we believe we need to stay away from artificial settings and try to recreate reality or at least a setting where we can learn as close to reality as we can.
Right smack in the middle of people
The location of our Human Centered Design boot camp is always kind of a mystery. When we decide on a topic we start searching for natural locations that provide easy access to relevant people in the relevant 'mode'.
In this case we wanted to explore a possible service, or product that has to do with shopping, so we started looking for store locations to connect and collaborate with people that are actually shopping.

We were hoping to find a prime location in Amsterdam and we kind of struck gold. We found a perfect store right smack in the middle of luxury shopping, cultural tourism and the buzzing of commuting Amsterdam locals.
Our design challenge
In our Human Centered Design pop-up center we recreated a setting where an 'investor' needed help finding a purpose for the space we were in, and we sent our graduates on this grossly broad assignment, to make sure their imagination was stimulated to the max.

The challenge:
Give this space in the center of Amsterdam a purpose which has a social and commercial value. Use Human Centered Design to find, build and verify that purpose.
After a quick building of hypothesis for what this could be and how we can find out, the grads were send into the field to talk to people to dig up what's actually going on.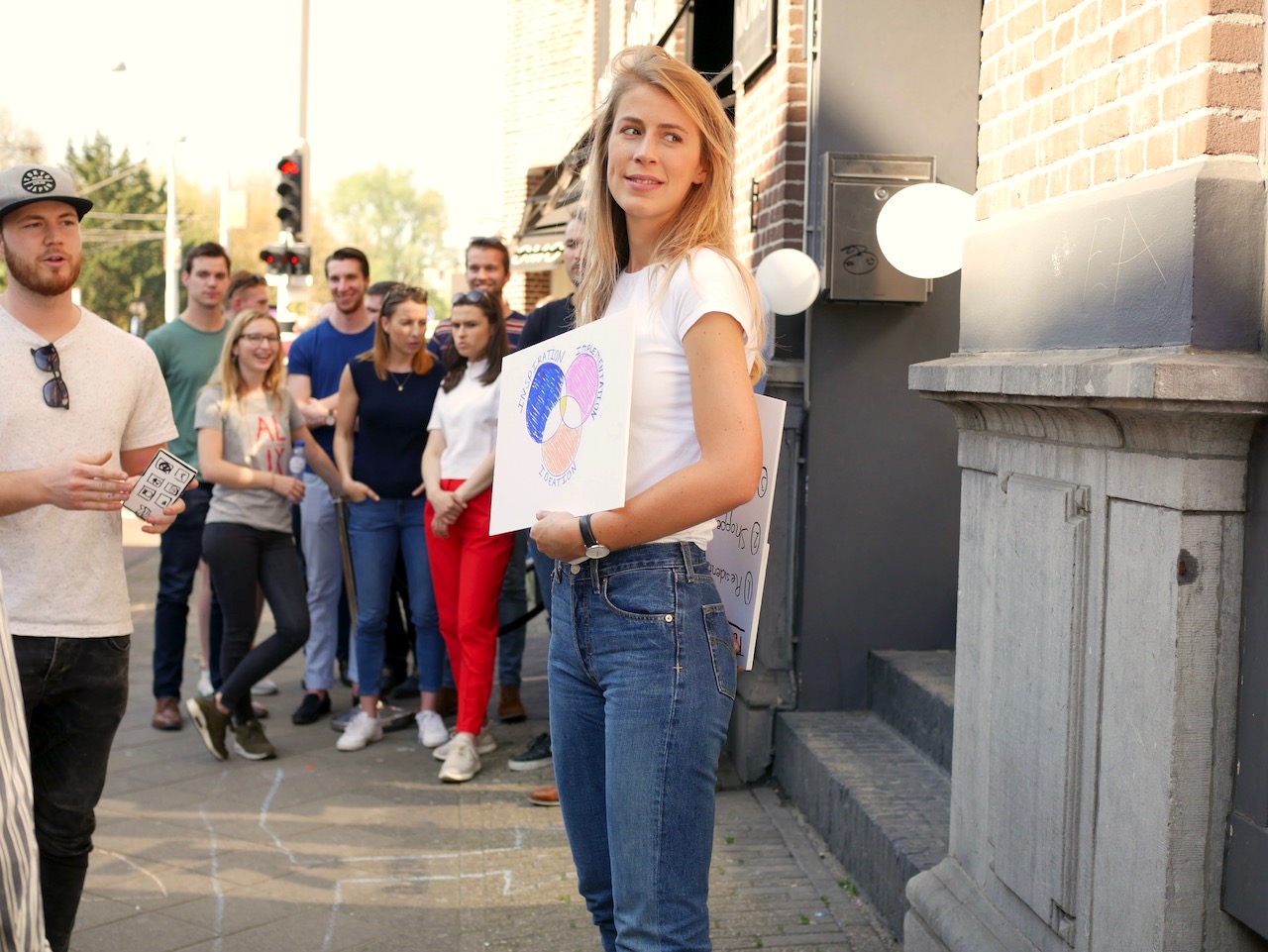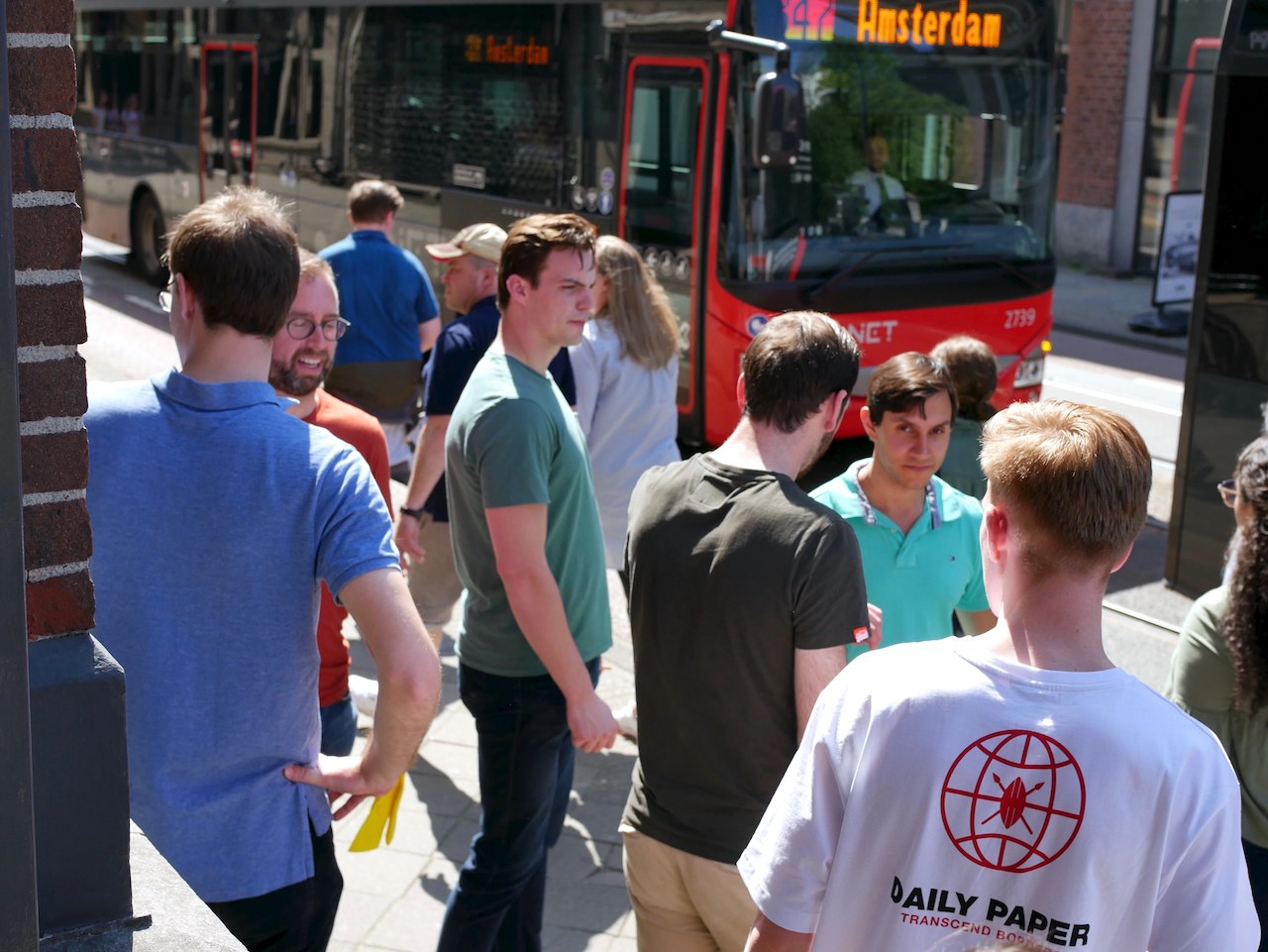 Empathize with the audience
As we sent our graduates outside twice to interview tourists, shoppers and locals, we expected them to come up with insights about these groups. But they surprised us!
Next to the three kinds of audiences, our grads discovered a fourth group: shop and hotel employees. It seemed they had no place to relax and quickly grab a healthy, affordable lunch, or dinner.
This triggered them to pivot their plans before they were codified. A big and happy surprise! After a quick talk with the 'investor', the graduates went on to ask more questions after their first run of interviews. After a group discussion the graduates honed in on the key questions to get more detail from the same people they spoke earlier. Their most important conclusions were highlighted and used as input for day 2.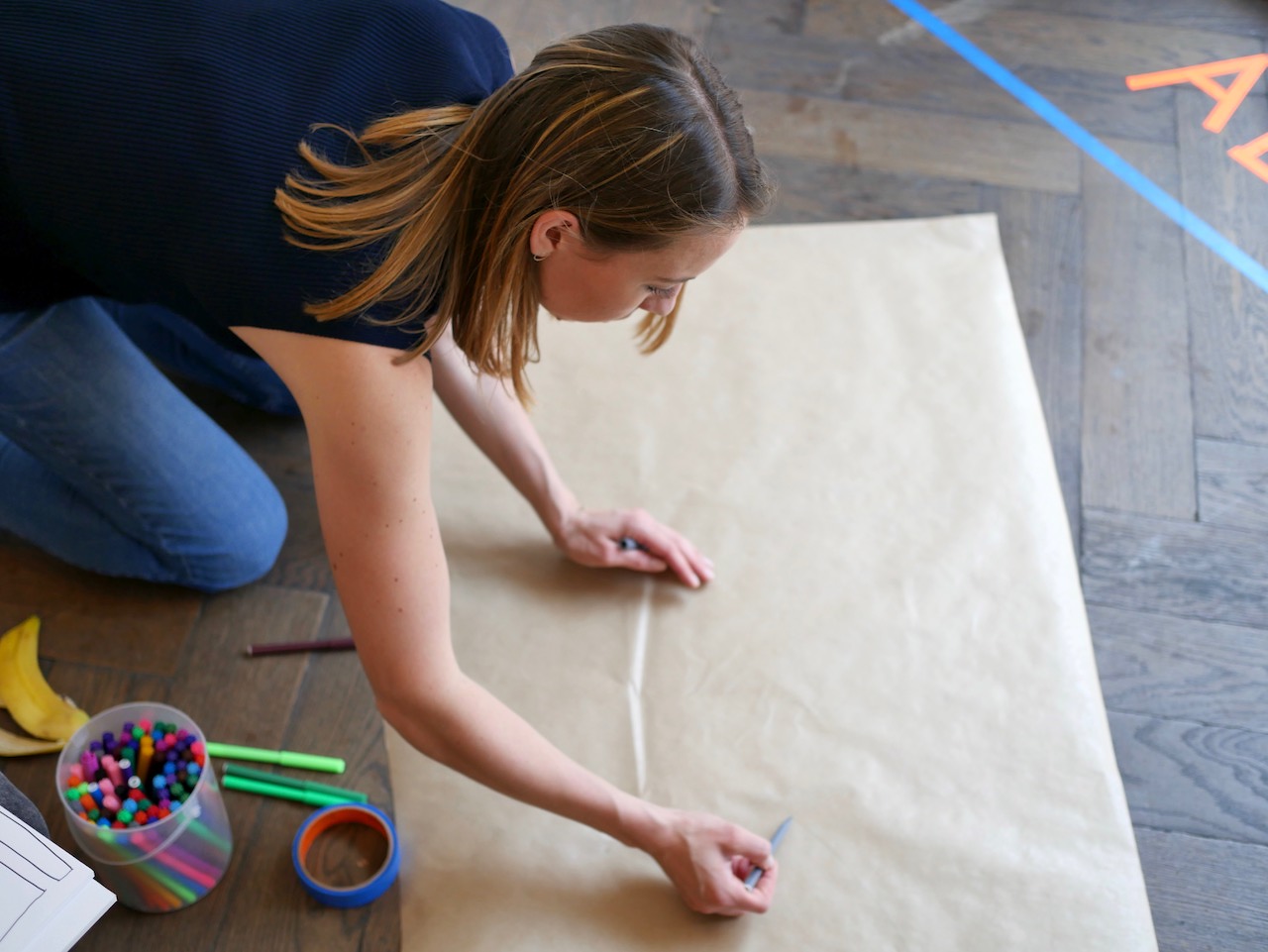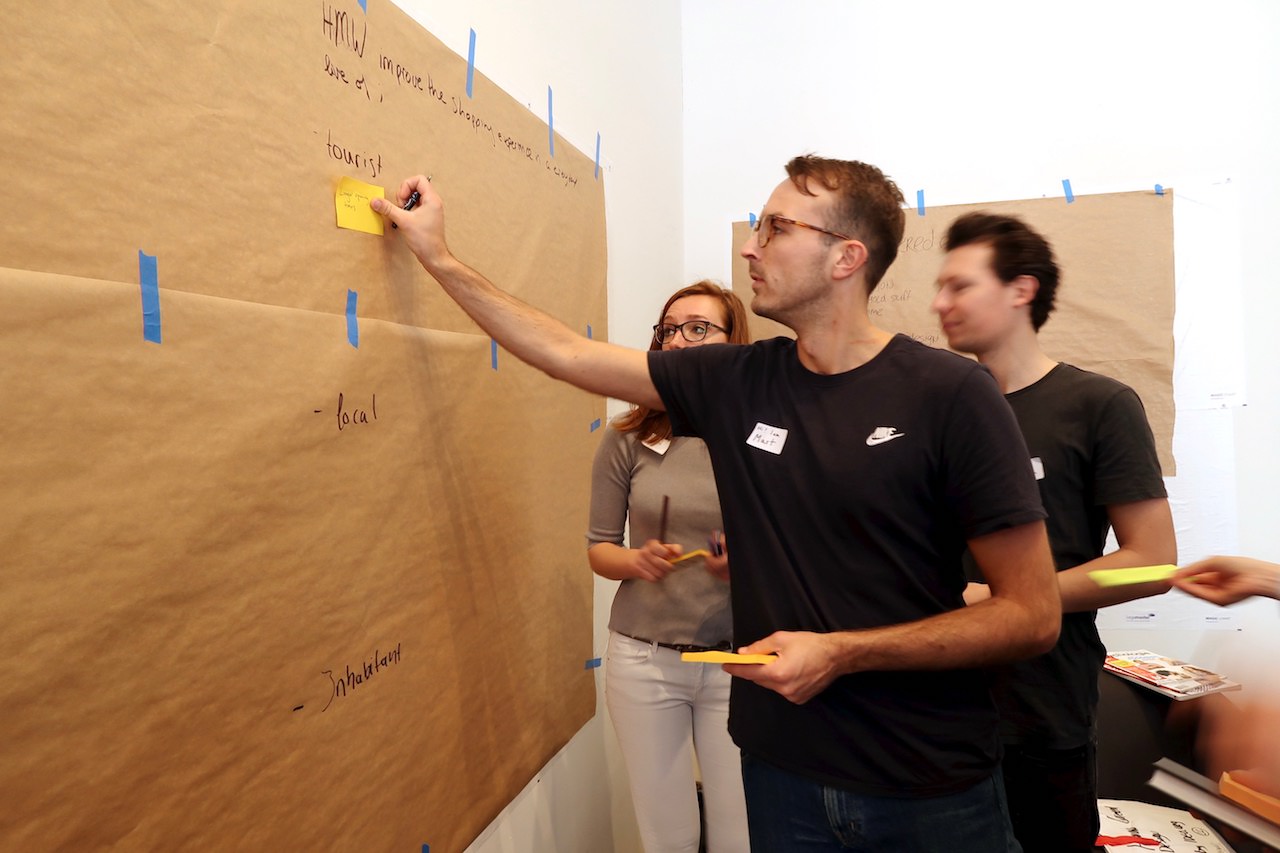 Storyboarding, Designing, validate, iterate
Day one was quite literally a 'walk in the park' compared to the heavy lifting that happened on day two. As the graduates worked hard into translating the conclusions into themes and these themes into actual concepts through brainstorming and storyboarding.
In short elevator pitches 5 creative ideas were presented, and through democratic voting one concept was chosen. Though the 'investor' had the veto right, she was very happy with the result of the democratic choice.
The core of Human Centred Design are of course people. After the choice of the investor, the graduates started prototyping, transforming the store into the concept: a Dogville-esque decorated space for their target audience: shop- and hotel employees.
Based on the valuable insights from the visitors of the concept the space was fine-tuned and finally validated . To our joy all of the respondents were ecstatic about the concept and even a bit disappointed that the concept was not to be their new hang out place, but part of a training. They really, really wanted it!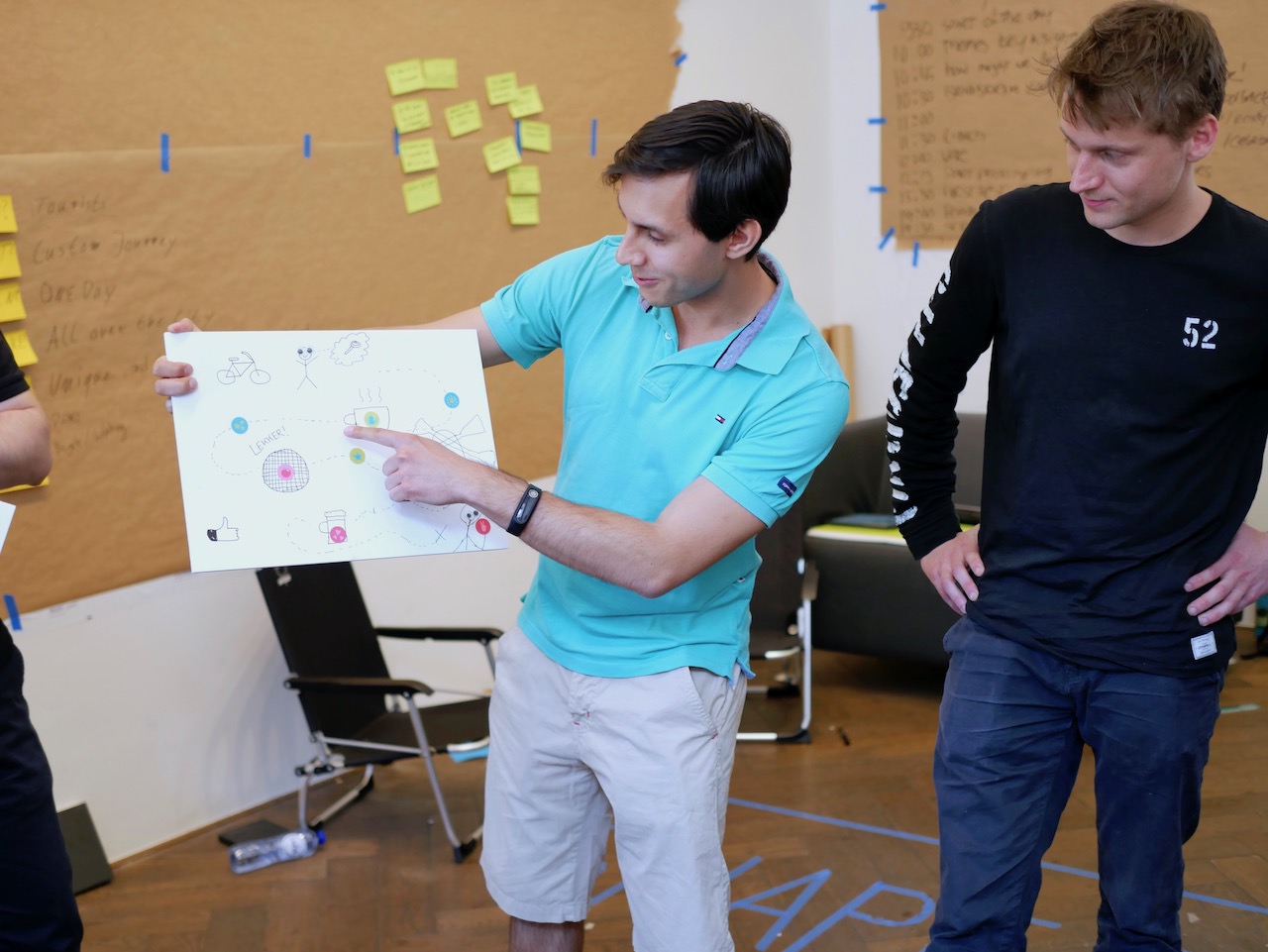 Should you also open a pop-up Human Centered Design Center?
The short answer is an unequivocally: yes! Being surrounded by people that might be your clients is extremely valuable. In fact, we see a resurgence of companies physically reintroducing themselves back to the community via physical presence.
As a general rule most companies rated with the best customer experience (CX) never left and clearly distinguish themselves as companies that are more likely to survive a depressed market. This is because the way they maintain and execute their CX is in their DNA and not an artificial trick with a lot of overhead involved.
This trend shows a clear correlation between customer experience (CX) and physical proximity to communities, both potential customers as well as employees.
Great examples are Coolblue and Amazon of late. Both players not only opened shops in large metropolitan areas, but also reinvented the CX of real life shops in the process.
Being in our pop-up store gave us the opportunity to seamlessly and easily tap into the mindset of our audience and therefore quickly hone our skills to improve the CX of our initiative. I would say: an imperative driver of success.
Watch the video to get an impression of our Human Centered Design boot camp:
Conclusion
"Should we do Human Centered Design as well?" Well, we're not selling, but our experiences are very positive. We're a company that likes to push the envelope of how services are designed, making things a little more magical, easy and appealing through digital and basically find out how we can do so.
With that mindset even perceived negative results like 'this won't fly', 'customers never used it' and 'this is too costly' are positive results. Some call this 'failing', but that implies no value is to be had. We call it 'finding out', because by learning you know what works, and what does not work (yet) which makes you spend money in a validated way.
Do you want to know more about Human Centred Design? Get in touch with Peet Sneekes, Strategic Innovator, or Lisa Victorian, Director Concept & Design.